I received a harsh reminder today (27 December) not to take a single day for granted. Bill Lyerly - "Ebola Bill" - USAFA class of '75, passed away yesterday. I am in shock. Bill was one of those rare souls that could brighten anyone's day – no matter how dark the circumstance. Dedicated, smart, adventurous, loyal, and cursed with one of the "punniest" senses of humor the good Lord could bestow upon a man. Bill was the one who gave me the call sign "Pogo" as we crossed the terrazzo heading to our new quarters in the "New Dorm" after Doolie year. It stayed with me my entire Air Force career and beyond. Bill was a friend to all he met. I know he loved his family as surely as they loved him. His classmates, his colleagues, his family, and his friends – we will all miss him. God speed, Bill.
– Hugo Posey
---
I just heard from our Classmate David Hicks [Hickman]. So sad to pass this along, but our classmate "Ebola" Bill Lyerly passed away yesterday morning. No details other than over the last few years he has been in poor health, but good spirits.
Bill and I were lab partners in Life Science back in the day. We dissected a Rhesus monkey together and gave him a nickname that neither one of us could remember lately. No surprise there. Bill always wanted to be a medical doctor, but ended up getting his PhD and doing research in the virus area, beginning with the Ebola virus.  
He retired a 3-Star equivalent from the Gov't and had a major impact on many of our nation's policies concerning natural disaster planning and virus studies. He was a very smart guy and had a great sense of humor. 75 Best Alive, Bill.
– Bill Murray
---
Bill Lyerly's passing was Saturday, 26 December at his daughter's home where he and Sylvia (his wife) were celebrating with their daughters and grandchildren. Bill has had a lot of health issues and began feeling very poorly around Thanksgiving. He was hospitalized twice between then and Christmas. He apparently had an inkling something was very wrong as he had some very serious conversations with his girls about their lives and how they were doing. Bill had gotten up around 0530 to go to the bathroom and collapsed on the bedroom floor on the way back to bed. Sylvia immediately went to his aid and had one brief conversation before Bill was gone. 

Bill will be cremated in Florida, where his daughter Heather lives (Sarasota) and will eventually be interred at the Academy. A memorial will be planned when the Pandemic subsides, and possibly when/if our class reschedules something for this year as has been discussed. 
 
His death appears to have been a result of a heart attack related to Bill's congestive heart disease, though he had been doing very well after his by-pass surgery several years ago and even after his last hospitalization after Thanksgiving. It was a real shock to everyone, but if there is a silver lining, it is that his passing was quick and he was with his wife, daughters, and grandchildren for the holidays, that they all had a wonderful celebration, and that they got though Christmas Day.
 
Bill was a great friend, husband, and father, a man of very good humor, who accomplished a lot during his life.
– David Hickman
---
This is heartbreaking news. I was shocked and saddened when I heard that Bill had passed away. We were lifelong friends from when we met at age 18 at USAFA to the present. We stayed in close contact over the years and enjoyed many good times together. I have so many stories to share, all involving laughter and good humor. So many good times at USAFA, Annapolis, OC, waterskiing on the Chesapeake, the Washington Naval Yard Officers Club, Phillips Crab House, Baltimore Playboy Club, my house in Crofton, his house in Riva... and much more. I couldn't have asked for a better friend in good times and bad. I will always remember his smile and his laughter. I know how much he loved his family and I will miss him dearly. His wonderful family is in my thoughts and prayers.
– Michael Heil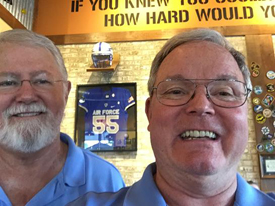 ---
I am so sorry to hear this. He always had a great combination of wit and wisdom.
– Jim Marshall
---
Absolute blindside. Bill helped me restore one of my Vettes during our 2nd class year. Shocked.
– Otto Dieffenbach
---
A sad day. We will all remember him fondly.
– Sandy Terry
---
I am so very shocked and sadden to hear of Bill's passing and my thoughts and prayers go out to his entire family. He was a great friend. I knew him back in our academy days and had many a lacrosse catch with him even after we graduated and lived in Annapolis. 
At one time he credited me with putting the lacrosse stick in his hands, and not that long ago we talked about the ladies in our life that carried on the lacrosse tradition. Both of us having Z cars, Bill would tell about when he was still a maintenance officer in the Air Force, how some of the technicians that worked for him put a "device" under the hood of his Z that would trick the police radar detectors (not that he would ever speed in his Z). 
Many times Bill would have a lot of us over watching Saturday Night Live. Almost without fail, when the host ended the opening with "live from New York it's Saturday night" Bill and the rest of us would look up and there would be Sylvia having just fallen asleep. 
Bill did trust me enough to watch his pets when they went away. So my wife and I had his Red Setter Smiley and their cat at my house. My wife had baked two fudge pies and were out on the counter cooling. A while later I went to check on them and noticed a whole pie and half of the other was eaten. I looked at Smiley believing he was the guilty one. But no, there was the cat meowing away in the corner with a very extended belly and fudge all over his mouth and whiskers. Last time I babysat Bill's pets.
You were the best Bill. May you Rest In Peace.
– Gary Janelli
---
The times I am reminded of my mortality are sobering. Yet, I look at the opportunities I have been blessed with to know great people like Bill, who made a difference in the world around me. I am left with the hope that in the time remaining, I can live up to the dreams and goals of such men and women. When you "touch the face of God," say "hi" to our other classmates, Bill. God bless and keep you.
– Keawe (Michael Anderson)
---
He was, indeed, an intellectual giant, and one whose work improved all our lives in ways most of us cannot understand. In social settings in the last 20 years or so, I'd think "don't encourage him" because he WOULD give you the detailed back story to what could have been a simple answer to a simple question like "what IS SARS, Bill?" He had a good sense of humor about that and life. RIP, Bill; your brothers miss you. 
– Dave Wallace
---
Sad news passed to me via email below from our classmate Bill Murray today. Time is the enemy classmates. I just this past Tuesday talked to our classmate Dr. Bill Lyerly. We shared a great many laughs about "the dark ages" at USAFA and walking horizontal. '75 Best Alive (small but elite!). 
– Mark Beesley
---
I guess we're getting old. Had some great times with Bill and Sylvia at our periodic gatherings. RIP brother. 
– John Charlton
---
We will miss him. Please keep him and his family in your prayers.  
– Al Bready
---
Bill (from CS-40) was such a regular through our squadron hallway when he was on crutches during 3 degree year to get to the elevator that for the longest time I thought he was in my squadron (CS-33). Through the years we stayed in regular contact and he was a constant lunch buddy in the early 2000s. He never failed to make me laugh. I miss kind, happy, dear friend Bill Lyerly. 
Bill, you are one of the very best of '75! You've left a legacy that will be hard to equal by anyone, of any class. Until our rejoin my friend.
– Jim Carlson
---
Bill was a great person, friend and fellow USAFA '75er. I will remember him fondly always! He was able to make you laugh and smile even while sharing his vast knowledge on serious topics. He will be missed but we can keep his outlook alive in us always. 
– Robert Awtrey
---
He was a good friend over the many years and I still remember our times in Barbarians Sq and then Frat 5. He will truly be missed and I'm praying for his family!! 
– Jim Dill
---
As some of you know, I spent over 20 years of my career in the DC metropolitan area (Bethesda, MD). One of the best parts of that was extended proximity to Bill Lyerly and his awesome family. I actually worked with one of his daughters, Kirsten, doing pandemic preparedness across Africa - a region Bill loved dearly. That brought the opportunity to have him as a consultant teaching our African partners in 2015, following the West Africa Ebola epidemic. Bill, Kirsten and I enjoyed the warm weather, and warmer hospitality, in Accra, Ghana.
Like many of you, I spent wonderful evenings at the Lyerly's home, which became sort of a second home for me as I was (insanely) a geographical bachelor 7 of those years. As we all shared a fondness for Public Health, dinners and cocktails, Bill, Kirsten and I would meet frequently at evening One Health (the union set for human, animal and environmental health) presentations. Bill and I also shared some good times at the Washington Football Team games, previously referred to as "the Skins." And then there were a few DC Dark Ages parties, but no details or photos, of course.
Bill was a great person, with a wonderful family, and loved little more than spending time with his family or classmates. He leaves a huge vacuum in our lives, and I look forward to the rejoin.
– Charlie Beadling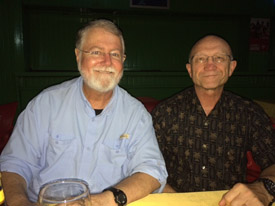 ---
Some of the best memories of our cadet summer programs were getting to know and form lasting relationships with classmates who weren't in our squadrons or regular academic/athletic circles. Bill Lyerly and I had that experience via summer SERE. We were Cadre Instructors the summer of '74. After the early phase ended, we were supporting the trek driving a jeep up and down Rampart Range Road looking for lost stragglers or injured cadets. Technically we were on "Safety Patrol." We'd received special driving licenses to drive the jeeps, but the four-wheel drive on the gravel road was a new experience to me. We traded off driving/radio operator duty. As we took to the jeep for a safety patrol I was the driver and still recall mentioning to Bill to "put on your seatbelt, we're going to have some fun." Yes indeed, the fateful words. 
Bill was a funny guy, engaging and gregarious even as a cadet. We had enjoyed getting to know each other over the course of the SERE program, and had a good degree of trust. The jeeps were fun to drive – open cabins, not much power, and I recall we were told to keep a speed limit of 20 miles per hour. Much like the 55 MPH national limit at the time, no one drove just 20 MPH in the jeeps. As it turned out that day, there was reason to keep the speed down. Within about five minutes of setting out (with our seatbelts on) I went into a turn too fast, overcorrected, and sent the jeep into a four wheel slide off the road and into the woods. The second or two in midair did slow time down a bit – I had a vision of all the "cadet good deals" I was going to miss by killing myself (and Bill) prematurely. 
We hit a thick pine tree square on and came to an immediate stop. Fortunately, the seat belts worked as advertised. We were restrained in our seats, even though the impact caused the windshield to separate outwards and shatter. Had we not had our seatbelts on, we likely would have been thrown through the broken glass. Other than being stunned, we seemed to be OK. I immediately asked Bill if he was fine, and he said his elbow had hit the radio and he'd lost feeling in his hand. To his credit, rather than hitting me with his other good hand he laughed it off and suggested we get help. 
I recall making my way back to the road and reporting we'd had a jeep accident (ironically while on "Safety Patrol"). Obviously the initial concern was that we were OK. Beyond that, I knew this was not good news for my cadet career. The Cadet Wing Safety Officer, Captain Pace, was in charge of the summer programs and ordered me to his tent to explain the accident. 
The Jeep had been totaled – trying to say it looked worse than it was didn't seem to be the right thing to say. Pace was enraged and noted that I had ruined his perfect summer safety record (I seem to recall he threw a Dixie cup towards me but I can't confirm it after 47 years). My greatest regret was injuring Bill's arm, and I kept checking up with him as the summer program ended and the fall semester started up. Ever the biological scientist, Bill noted that nerve regenerated slowly, and sure enough over the next six months the feeling returned down his arm and back to his hand. 
The incident had bonded us. Over the years this was the standard "cadet story" we'd recall together when we met at reunions or functions. To his credit, Bill never held it against me, and continued to laugh the story off. Aside from his arm injury, we discovered after the accident that a single lap seatbelt that restrains you in a sudden stop will leave marks – I had the ugliest black and blue bruises on my hips for weeks and I'm sure Bill did too. He was properly held harmless in the accident – it was all my fault. I hoped that perhaps with the return to classes that any Form 10 write-up from the summer might get lost in the system, and I heard nothing initially. 
Then one day during the noon meal march-in to Mitchell Hall we got an "Eyes Left" command and there it was, towed onto the Terrazzo and sitting in all its broken glass and bent frame glory – my wrecked jeep – a reminder to the Cadet Wing of the need for vehicle safety. This seemed ominous to me, and it was. My CDB notice came shortly and I received a standard punishment suite: two months loss of off base privileges, lots of tours and confinements, and loss of use of my new car. Still, the fact that Bill's arm healed was the important thing, and I'll see his smiling face updating me on his nerve's regeneration whenever I think of him. He was great classmate and I'll miss him.   
– Hugo Gray