José Castro-Aguirre had the closest thing to a photographic memory I have ever seen. Most of us were up half the night studying, sweating Stan/Eval and systems questions, procedures. Castro would read the stuff one time, and go fix a rum and coke. (Rum through his embassy for dirt cheap, too!). 

We used to sit outside the BOQ drinking and shooting playboy pinups with BB guns. Probably'd get arrested and drummed out of the Air Force for doing that these days.

We all thought he was crazy for driving home over Christmas break. He drove a brand new BMW from Columbus, Mississippi to El Salvador and back. 

Arrived back at the base with two bullet holes in the trunk from banditos in Mexico.

Castro was a good man. Good stick.
– Gary Whitfield
---
José and I were roommates several times in Third Squadron. I spent Christmas/New Years break 1973 – 1974 with him and his family at their home in San Salvador, El Salvador. 
The next year during Spring Break (1974), he came to northern Minnesota to spend the break with me and my family. It was quite a shock for him coming from El Salvador to the winter of Northern Minnesota. He of course had no clothing suitable for that so we outfitted him. He found the big snow boots particularly funny and if you look at the photo you will see he is showing the big boots. He wanted that photo and the one of us shoveling snow to send to his parents who of course had never seen anything like that.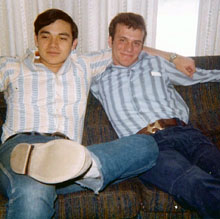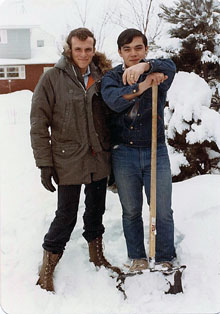 José was a good friend. After his death, I contacted his friends from Third Squadron. The comments all ran along the same lines. "José lived". When any of us think of him, you can see the smiles. We all have the same fond memories of a vibrant, warm José that lived everything he did to the fullest. Whenever we did anything with José, you could count on having an adventure. He embraced life at full throttle. I gradually picked up some of Jose's attitude to life as I got older, and I am better for it.

José is gone, but definitely not forgotten.
– Mark Lenci. 
---
José went to Columbus AFB. When I got there, he had recently gotten his BMW 2002 sedan. He took me for a ride around the airport in this car at speeds up to 100mph. He went around curves at race driver speeds.
I was petrified because at that time I did not know what a BMW was. It looked like a tame small sedan. I also thought it would not be a good idea to be thrown into jail by the MPs the day after I reported for duty into the Air Force. His car probably was unique in that it already had a bullet hole in the trunk from when he drove his car home through Central America earlier that summer.
I later ran into José about 13 or 14 years into my AF career at Maxwell AFB. Although he was a little rounder in physique, his ebullience and infectious humor was there in full force! He gave me a quick rundown on his career. After UPT, José was trained as a helicopter pilot. He told me he was shot down twice. Then he was shifted into the logistics business. He implied that he was one of the chief honchos in their military in the logistics field. To listen to him, you'd have thought their military would come to an abrupt end without him running logistics!
Anyway, he made me laugh hard for about the twenty minutes we talked and he tried to recruit me as a Liaison Officer for the USAF in El Salvador.
Just one other thing; When I remember José, I'll never forget the time our squadron (I think it was our doolie squadron 24 that we were both in) went to visit our squadron sponsor out at Minot AFB. José got on a roll telling jokes to the guys in the "real" AF and us cadets. He had us rolling so hard, most of us had tears streaming from our eyes. He went from joke to joke with the natural ease of an entertainer.
He was a fine fellow and I'm sorry he's gone.
– Henry Esposito.
---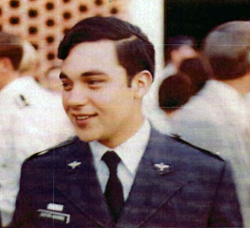 I never really knew José at USAFA. However we were in the same UPT class at Columbus, and became the best of friends. We lost contact after about five years.
Losing José is a tough one. He was one of the smartest, funniest people I ever knew. He was also a great pilot. He certainly did himself and his country credit while involved with the USAF. I always thought  he would be President of El Salvador some day.
I have so many great memories of José – like the time we were pulled over about 0100 in Reform, AL not entirely sober, with a large cooler full of beer, and many empty cans in the car. We were driving back to Atlanta to see our "dates." José was driving and suddenly could not speak English to the local cops. We actually talked our way out, and left town with our beer. José taking a sobriety test was so funny. The cop was trying to get him to blow, but he was actually confused and sucking. The cop asked for me to help explain. I looked at José and said, "I don't care what it is called, you're not supposed to suck." Oh well, it was funny at the time.
– Randy Powell
---
I also had him in a class (I think it was Geography but my senility clouds things, you know) so I knew him a bit and found him to be always a funny guy who felt so blessed to be at USAFA.
Anyway, a few years after the Zoo, I was on my first C-130 rotation (out of McCord) to Howard AFB in the Canal Zone, a young 1Lt copilot. (The day I arrived, was the day President Carter announced we would give the Zone back to Panama – the place was like a morgue). A few weeks later, I was on a trip called the "CENAMER" run because we stopped at all the capital cities in Central America.
As luck would have it, our plane broke in San Salvador so we spent the night there. The next morning, after completing the flight planning, my crew and I left Base Ops and walked to the plane. We were about half way across the tarmac when I hear, "Dave!...Dave Dyche!" being yelled from behind me.
My sharp mind quickly calculated that the rest of the crew was walking ahead so none were behind me. Hmmm…who the heck knows me in San Salvador?
I turn around and it was José. You can imagine both my surprise and relief that it was a friend. We spent the next 15 minutes or so catching up on our lives. Having gone through USAF UPT, he was then an IP for the El Salvadoran AF and enjoying it, although he'd rather have been a fighter slot.
Sadly, the time flew by and I had to depart. With a big hug, we said goodbye…and that was the last time I ever saw him. Not a big deal perhaps but a story I have often told people, especially other aircrew and even my ROTC cadets about how small our world is and how friendships you make in the service come back in the strangest places.
– Dave Dyche
---
I believe José and I were in Mech 351 class together – as I recall, he really burned up the program, putting the rest of us to shame!
But I'll always remember José from 2nd Class summer, when we were SERE Cadre (not survival, but the other guys). He was truly impressive – and incredibly convincing!
In January 2005, I had the great privilege of meeting José for dinner in San Salvador. I hadn't seen him since graduation, but the intervening 30 years evaporated instantly and it was just like old times. I had heard he had been ill for awhile, but he looked and sounded good. We had a great time catching up – a very enjoyable and rewarding evening.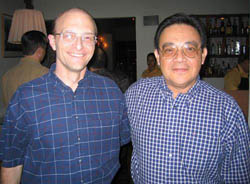 It's hard to believe he's gone now – my deepest condolences to his family. But all should know he was a truly remarkable and talented guy, a great person and friend to all. I'm proud and honored to have known him, and especially to have had him as our classmate. He will be missed greatly.
– Al Piotter. 
---
José and I "suffered" together through many a Mech class. He was a good friend and a fine person.
We send our prayers and condolences to his family.
– Scott Carson